Greetings, 
Where did this year go? It seems like it moved very fast, and Christmas and a New Year are upon us. 
The new Christmas song I wrote came out on November 14th, and several radio stations around the world are playing it. We finished the month of November #3 on the APD Radio Album Chart. We are currently holding at the #9 position. 
Just a couple more dates to play in this year. If you would like us to come to your area, please contact me for details. 
I have spent the past couple of weeks recording vocals and guitar on some new tracks. Don't forget to check out the store on my webpage. There are several different styles and colors of T-shirts, as well as ball caps. All the music is available for download as well as, physical copies of all the CD's. 
We look forward to an exciting new year. Until then, we wish you a very Merry Christmas! Thank for your support and friendship. 
Lightnin Rod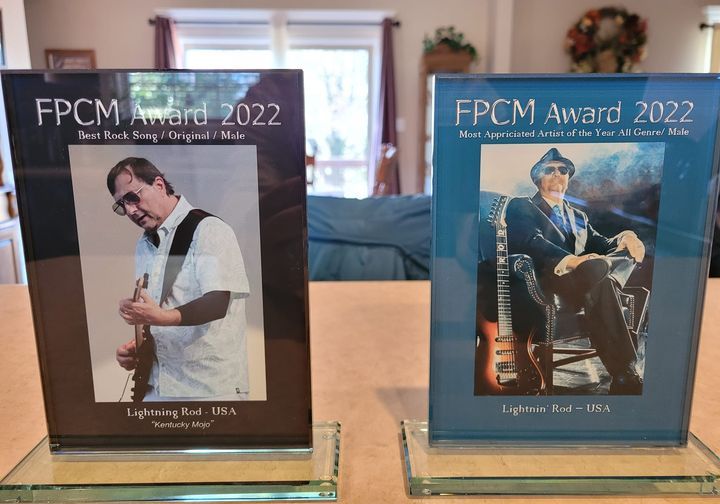 Greetings! Hope you had a great Thanksgiving with family & Friends. I'm sure all of us raised our caloric intake for a few days! The new holiday classic, "IT'S CHRISTMAS" was released on November 14th, and has made it to #38 on the Holiday Radio chart. You can hear & download it directly from my webpage. 
Speaking of the charts, "Kentucky Mojo" went to #3 on the radio rock chart, and currently holding for several days at the #5 position. We also moved to #3 on the album charts. 
Our touring has slowed down until spring with only two shows scheduled for December. In the meantime, there is writing & recording new material, as well as, working on the 2023 booking calendar. If you would like to see us in your area, don't hesitate to let me know. 
And now some big news, as the picture shows, I just received two Red Carpet Music Awards from Europe. The first is "Most Appreciated Artist of the Year(all genres). The second was for Best Original Rock Song, "Kentucky Mojo". This is indeed a honor. Make sure to go to webpage, www.lightnin-rod.com to see the merchandise. Several styles and colors of the t-shirts, ball caps and all of my CD releases. All the songs are also available for download. They all make great gifts just in time for Christmas. 
Until next time, 
"The Blues Is Alright" 
Lightnin Rod
The Dayton Blues Fest 
"LIGHTNIN ROD & The Thunderbolts always do a Good Job of Entertaining and performing for the audience! A pleasant Act to Book and Work with at The Dayton Blues Fest! Booking The Band Is A Good Choice!!" 
  Arthur "Hakim" Stokes 
TAJE Music Entertainment
Greetings, 
Just a quick update. The air is getting cooler & the colors this fall are beautiful. We are heading south. We will be headlining the St. Benedict's Blues Festival on Saturday, October 29th in beautiful St. Augustine, Florida. This is a three day event, so come on out & show your support. We take the stage at 8 p.m. The good news is that it won't break the budget at only $5 for admission. 
The recording of new music has stopped for a couple of months, but we plan to resume in December. We will be releasing my first ever Christmas song to radio in November. Stay tuned for the release date. 
Speaking of the holidays, they are almost upon us. Don't forget we have several t-shirts & ball caps, as well as all the CD's, pictures & posters all at www.lightnin-rod.com. 
Until next time, The Blues is Alright!
The Stonebridge Summer Concert series in Wilmore, KY,  has been in operation since 2007 (minus Covid year of 2020) and in that time period Lightnin Rod and The Thunderbolt have performed three times, the latest being this past summer. They are always a delight to work with and very flexible to the needs of the organizers. We have found them to be talented, professional, and very much a "crowd pleaser." We will not hesitate to invite them again! 
Judy Woolums 
Director 
Wilmore Community Development Board
Greetings, 
Summer is over & fall is in the air. I just received an award plague for "Homebound Blues", The Akademia Award for best blues song for July 2022. This is quite an honor & I thank them for the award. 
Our last few shows have been in Kentucky, but we will be back in Ohio in September. On the 10th we will be back in Westerville. Make sure to stop out as this will be the last show in Ohio this year. It is always a great time & crowd in Westerville. 
For our friends in Florida, make sure to mark October 29th on your calendars. We will be headlining the St. Benedict's Blues Festival in beautiful St. Augustine. We will be taking a few days R & R and would love to meet with you during the week.. 
Also, don't forget to check out all the new merchandise on the website. There are two different styles of T-shirts in three different colors, there are also two different colors of ball caps available. All sales will go toward producing the new album, so you will have a part in the release. 
Until next time, enjoy the fall weather and remember, "The Blues is Alright!" 
Lightnin Rod
Hope everyone is doing well. Although it still feels like summer, fall is right around the corner. 
This Saturday, August 13th, we will be performing at the Stonebridge Concert Series in beautiful Wilmore, Kentucky. A couple weeks ago we performed for the second time at the Dayton Blues Festival at Levitt Amphitheatre in Dayton, OH. Our entire set was taped by Dayton Television. When the editing is complete we plan to release video's from three songs. 
We have a whole new shipment of T-shirts & ball caps added for purchase to the webpage. There are two different styles of shirts in three different colors. All proceeds will go to the recording of the next album. Make sure to check them out. 
Until next time, the Blues is Alright! 
Rod